【Item Name】 Life Tree Essential Oil Gift Box--Big
【Place of Production】100% Made in Taiwan
【Expiration】5 years
【Material/Specification】
Pure Taiwan Hinoki Essential Oil 10ml
Life Tree Necklace X1
Replaceable Gasket X5
【Characteristics】
★Life Tree Essential Oil Gift Box is full of vitality of Hinoki tree shape and designed using unique artistic modelling to incorporate the healing effect of nature into the concept of life.
★Wear it, and you wear both pure Hinoki aroma and the essence of the land of Taiwan
★"What color do you feel today when you open the lid? You can change the color of the gasket!"
★In an urban environment, you have the right to breathe clean air without going far to the forest, which is before your breast full of positive energy.
★Inject some Hinoki essential oil into the pores of the life tree necklace, and take a deep breath so that the powerful tree of life can blend into your shining heart, activate your tired spirit and transform it into the most viable kinetic energy.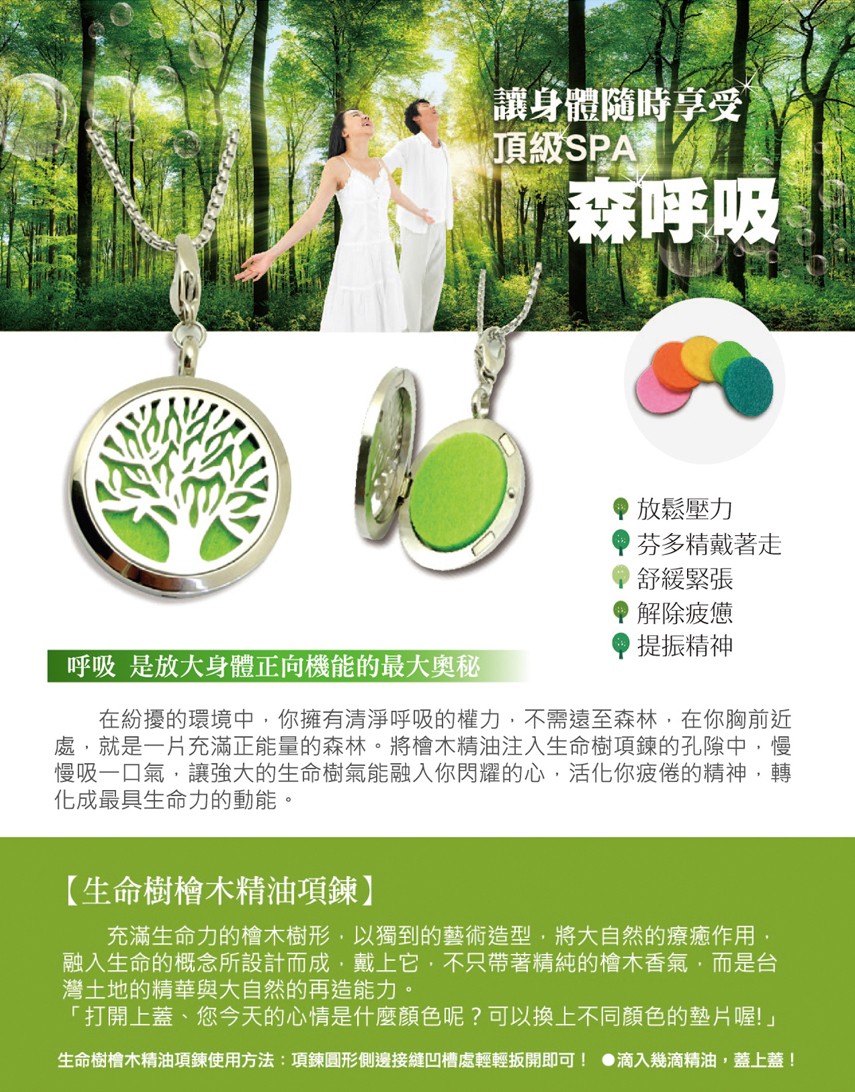 【Warranty】New product defects
【Refund/Exchange】
Maintain the integrity of the returned product within the seven days of the warranty period. The product must be "intact and unused", with the whole package including the box, accessories, external and internal packaging, attached documents, gifts, the packaging film covering the product. If anything missed or there is damage to the product, the refund or exchange will not be given.

【Notices】
◎Put the product in a shady place to avoid direct sunlight and deterioration.
◎Keep out of reach of children. If you feel uncomfortable or your scalp has turned red and swollen, stop using the product and consult a professional physician immediately.
◎People with injured or swollen skin must not use the product. Children and people with sensitive skin should apply some on the skin for test before use, and use it only when there is no sensitive skin reaction.